Schedule an Appointment
*Please fill in all the required fields.
Menu

Cancer Center

Location Finder
Here's your guide to finding any of the facilities in the Aultman family of health services, including maps and contacts.

Need a Doctor?
Aultman Medical Group's network of more than 240 providers is committed to high-level patient care.

Donate Today
You can help support and enhance services, and in turn, help patients and their families who benefit from care received at Aultman.
Cancer Resources/Support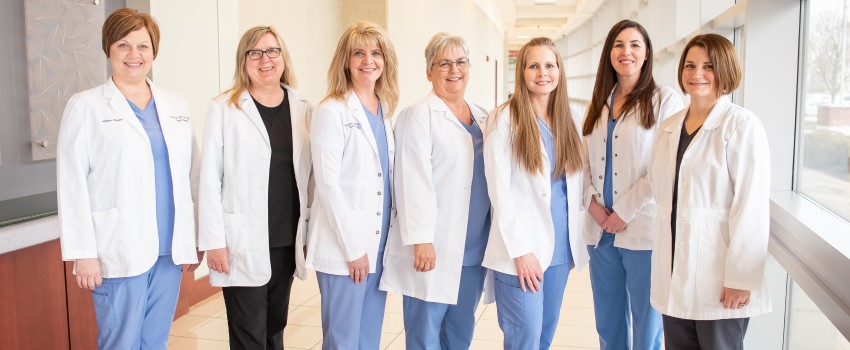 Our team of cancer specialists realize that cancer care includes more than the expert diagnostic and treatment specialties that every person diagnosed with cancer requires. The Aultman Cancer Center is committed to caring for the whole person including their physical, emotional and spiritual well-being. Our team of experts are dedicated to guiding patients and caregivers through their cancer journey and into survivorship or end-of-life care. These specialized support services are specially designed for individuals with cancer.
Nurse Navigators
Our cancer navigation program is committed to meeting the complex needs of individuals along with their families and caregivers who are experiencing cancer diagnoses. Navigators Erin Meek, BSN, RN, OCN, CN-BN; Suzanne LaBuda BSN, RN, OCN; Karen Ayers, BSN, RN; and Kristy Russell, BSN, RN, CBE address these complex needs by supporting individuals through diagnosis and into treatment.
Navigator services include:
Educating patient/family on diagnosis and treatment.
Informing patient on what to expect prior to, during and after treatment.
Identifying and addressing barriers to timely diagnosis and treatment.
Assisting in making referrals and appointments.
Identifying and facilitating resources to support the patient and family.
Providing emotional support for patients and their loved ones.
These nurse navigators have specialized knowledge and training in cancer and work closely with a collaborative multidisciplinary team to promote an individualized, compassionate and efficient experience at Aultman Health Foundation.
For more information, call 330-363-6011. The navigators are available Monday-Friday from 8 a.m.-4:30 p.m. and will return calls within 1-2 business days.
Survivorship Navigator
The end of cancer treatment can be a time of uncertainty and transition. To help make this transition from the active phase of treatment easier, Aultman offers a supportive survivorship program that includes an individualized summary of all diagnostic procedures and treatments received as well as guidelines for post-treatment follow-up, support and healthy living recommendations.
Cancer Survivorship Navigator Denise Rollyson BSN, RN works closely with the physician to create a comprehensive survivorship care plan that is provided to both the patient and their primary care provider as a resource in one convenient document. Denise is also available for ongoing support for cancer survivors.
Office hours are Monday-Friday, 8 a.m.-4:30 p.m. Call 330-363-4160 and Denise will return your call within one business day.
Oncology Social Worker
Social workers provide emotional support as well as help with questions or concerns regarding insurance or finances. Social workers also refer to community resources as needed. These services are free of charge and available to all Aultman cancer patients. To contact our oncology social work, Rachel Elek, MSW, LISW, OSW-C, call 330-363-3482.
Financial Resource Advocate
The financial burdens patients face are important to us. That is why we have a Financial Resource Advocate who works with patients to identify if they qualify for financial assistance opportunities. These opportunities may be available for the uninsured as well as those with insurance who have high out-of-pocket costs associated with their treatment. The Financial Resource Advocate can be reached by calling 330-363-5245.
Moving Forward
Moving Forward is designed for Aultman Cancer Center patients who are receiving treatment or transitioning from treatment to survivorship. Sessions are offered the second Thursday of each month from 5-8 p.m. and the fourth Friday of the month from 1-3 p.m. Survivors can meet individually with support services to discuss any physical or psychosocial concerns including physical/occupational therapy needs, dietary issues, financial concerns, genetics and any psychological or coping issues. Survivors may request meetings with all of the disciplines or only those that are of interest to them.
We will also be offering a group session during the Thursday meeting from 5-6 p.m. for people who would like to gain support from others who have been through similar journeys. Attendees will also be able to register for a 30-minute massotherapy session. A monthly yoga class is also available. Please call 330-363-6011 to register.
Lymphedema Management Clinic
Our Lymphedema Management Clinic provides services in the Aultman Tusc facility, conveniently located across from Aultman Hospital at 2615 Tuscarawas St. W. The clinic is staffed by occupational therapy professionals, all certified in lymphatic therapy by the Norton School of Lymphatics. To schedule an appointment, call 330-363-6215.
Therapy Services
Nutrition services, social services, physical therapy, occupational therapy, speech therapy and financial counseling are available to all patients, whether inpatients or outpatients. Outpatient physical and occupational therapy services are available at Aultman Tusc, Aultman West, Aultman North, Aultman Carrollton and Aultman Louisville.
Support Groups
The Woman-to-Woman Cancer Support Group meets the fourth Thursday of each month at 6:30 p.m. The group is open to women of all ages who are battling cancer. Call Deb Mohr, RNC at 330-324-6199 for location information or to learn more.
Aultman's gynecologic support group is called Sharing the Journey. Women with any type of gynecologic cancer are invited to attend the free meetings, which are held the first Tuesday of each month from 5:30 – 7 p.m. in the Aultman Breast Care Center. For more information, please contact Kim Hoerger, BSN, RN, OCN at 330-994-1280 or email kimberly.hoerger@aultman.com.
Free Wig Salon
Aultman is a proud to provide a free wig salon program to Aultman Cancer Center patients. New wigs and fittings are offered free of charge to patients undergoing cancer treatment. Call 330-363-5245 to schedule a fitting appointment.
Caregiver Connection Support Group
Anyone who is a caregiver for a cancer patient is welcome to attend this free support group to connect with other caregivers. Meetings are held the third Thursday of each month from either 10 – 11 a.m. or from 6 – 7 p.m. in the Cancer Center Conference Room. For more information, please contact oncology social worker Rachel Elek, MSW, LISW, OSW-C at 330-363-3482 or email rachel.elek@aultman.com.
Grief Services
Group meetings are offered for children, teens and adults who are coping with the loss of loved ones. Led by expert grief facilitators, these sessions are held at the Compassionate Care Center on the Aultman Woodlawn campus located at 2821 Woodlawn Ave. in Canton. Call 330-479-4835 for more information.
Cancer Screening
Several free cancer screening clinics are offered at multiple locations throughout the year. Aultman has extensive cancer screening capability. For more information about our screening programs, please call 330-363-6011.
Oncology Dietitian Services
The Aultman Cancer Center's Oncology Dietitian, Linda Van Twisk, MS, RDN, LD, helps Cancer Center patients and their caregivers to develop a plan for optimal nutrition. Creating a proper nutrition plan helps patients to maintain their health during treatment, deal with the side effects of treatment and achieve positive outcomes through appropriate nutrition practices. For more information, please call 330-363-5498.
Educational Resources
Our HealthTalks video education series covers a wide variety of helpful topics, including cancer care and much more. Click here to browse our HealthTalks vido library.

Location Finder
Here's your guide to finding any of the facilities in the Aultman family of health services, including maps and contacts.

Need a Doctor?
Aultman Medical Group's network of more than 240 providers is committed to high-level patient care.

Donate Today
You can help support and enhance services, and in turn, help patients and their families who benefit from care received at Aultman.