Schedule an Appointment
*Please fill in all the required fields.
During National Hospital Week, and every week, we celebrate and recognize our healthcare workers!
No matter the department, ALL Aultman team members make a difference, working tirelessly, day and night, to provide care and comfort to our community.

To send a personal message of appreciation to a member of the Aultman team, click the gold "Thank a Healthcare Worker" button above. And don't forget to browse through the messages about our courageous, resilient and dedicated healthcare workers!

Nichole Strait -


Thank you Nichole for truly caring about your patients. You go above and beyond to make sure they are taken care of! You are a GREAT nurse!
- Audrea Miller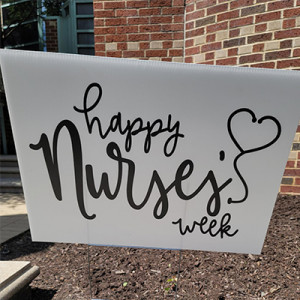 Brenda Szanislo -
Brenda gives her absolute all every single shift. She worked the COVID unit 100% of the time both years we had it and that was not easy. She is a great nurse and hard worker.
- Debbie Ford

Massillon Therapy Team -
An extra thank you for each of the staff members at Aultman Massillon Therapy. Your dedication and hard work does not go unnoticed or unappreciated. Your clients, our community and the mgt. structure appreciate you! - Rob
- Rob Elson

Scott Schulz -
Shoutout to Scott the GOAT of all nurses. You really work 60+ hours a week and still take care of us every single day which is mind blowing. I truly do appreciate everything you do for others at work, and all you do for us at home.
- Sean Reed

Thomas Arnold, DPM and Kevin Hill, M.D. and their staff -
Many people seek (but do not always find) good healthcare as they transition through the challenges of aging, especially after the age of 65 y/o.

I would like to recognize Dr. Thomas Arnold and Dr. Kevin Hill and their particular supporting Staff for providing me, their patient, with exceptional, continuous care for the last 6 years.

And during that time, while my adventures in the 'Bermuda Triangle of Health' have been many, what I have always been able to rely upon with comforting confidence is the thorough and exceptional care I have received from my medical team.

THANK YOU SO VERY MUCH, Doctor Arnold and Doctor Hill.

You and your caring Staffs are truly my 'Heroes.'

Very Respectively,


R. Mark Wright
- Richard Wright

Scott Schulz -
No matter what you face during your day, you face it with strength and understanding. You show up everyday in service of others. We send you all the love and appreciate for what you do for us and others. Tricia, Seth, Gavin, Sean, and Gunnar.
- Tricia Schulz

Debbie Hyde -
Thank you for your compassion, dedication, and your caring spirit. You bring light and love into the lives of those around you at a time when it is needed. I thank God for you and all those who are willing to share what they are given with those who need it.
- Tina Corder

Ally Monheim -
Thank you Ally for inspiring people daily to continue their steps towards a healthy meaningful life.
You are an amazing occupational therapist and woman, and I am proud to say that you are my daughter! Keep up the good work.
- Jan Monheim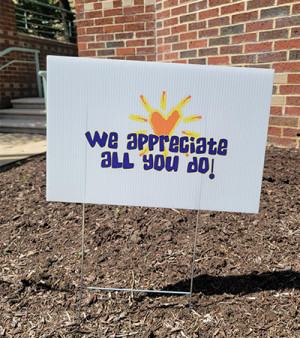 Jill Monheim -
Thank you, Jill, for reassuring, loving and taking care of so many people that are coming to you for surgery and who are uncomfortable and afraid. I'm sure your beautiful smile blesses them and comforts them. Thank you for working hard each day. You are a wonderful woman, wife, daughter-in-law and mother?
- Jan Monheim

Kaylee Beckett -
You are such an amazing nurse, working long shifts through the middle of the night and providing care for all kinds of people! On top of all your hard work as a nurse, you then go home and are an amazing mother and provide such a great life for your family! Anyone who has you as their nurse should consider themselves very lucky! Thank you for all of your hard work!
- Molly Secrest

Kelly Buehler -
Thank you for all you have done for me through all my time at Pulmonary Rehab. You are caring, conscientious, thorough and very helpful and pleasant. She is a special help.
- Lonna Roberts

Sherrie Shaffer -
Sherrie was hired in our Bolivar Office only a few months ago. She has taken on new tasks quickly and puts our patient priorities first. She is a very dedicated employee and lead in our office.
- Kathy Mizer

Aultman's Oncology Nurses -
For all your compassion for those facing cancer treatments and continue like me being cancer free. Thank you for helping us through your work.
- Nita Riemenschneider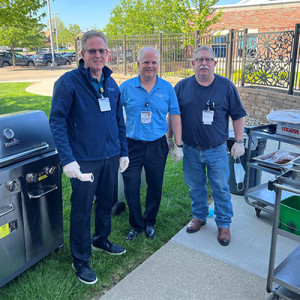 Aultman Alliance Community Hospital appreciation lunch for hospital week.

Lindsey Fernandez -
Dear Lindsey,

You are such a caring and dedicated nurse. We really appreciate the time and thoughtfulness you took with our Mom, during COVID. Not only did you take care of her physical ailments, but you also took care of her mental well-being. Florence significantly improved under your care because of your kindness and dedication towards her. You made her feel special and loved. Your commitment to your patients and your compassion for others is remarkable.
Thank you for all you do - we are blessed to have you.
- Cathleen Changet

Aultman's Emergency Department -
Thank you to everyone involved in the ED from nurses, physicians, techs, medics, pharmacy, respiratory, radiology, registration, security, social workers, utilization management, bed nurse, environmental services, dietary, patient liaison, primary care physicians, PT/OT and anyone else I forgot to mention. The many departments come together to provide best care possible to not only the ED patients but the many boarded patients (psych, inpatients, waiting placement).
A BIG thank you to staff that have picked up extra hours to assist with staffing. You all are greatly appreciated. In these trying times, I am proud to be a part of this department.
Thank you my second family.
- Kay Tesch

Kristy Russell -
We are so proud of you on behalf of what you have accomplished in your career as a registered nurse. On top of that you are always there when we need you for advice with our health care. Thank you for being our awesome daughter.

Love Dad and Mom
- Georgia Haught

Aultman Cardiac Care Unit -
I want to thank the Doctors, Nurses and Staff for the great care that they provided me during my short stay for my open heart by-pass surgery and recovery on April 20, 2022. The staff were extremely kind and helpful and provided excellent care. You cannot ask for better service. I would also like to point out that the food service was above and beyond expectations and of excellent quality. The chef and service staff are to be commended. I wish that I could remember the names of all of the nurses that provided for my care but alas, the effects of the anesthesia have played havoc with my memory. They were all so kind and attentive to my needs. Thank you.

Again, many thanks to all who serve on the Cardiac Care Unit.
Sincerely, Peter Drechsler
- Peter Drechsler

All Aultman Healthcare Workers -
Thank you for your dedication, kindness and quality of work!
- Allison Blake

Chris Moore -
Chris worked at Aultman almost 40 years. She loved it there and loved everyone she worked with. She died three years ago and when I think of her I always think of her in her scrubs at Aultman OR.
Thank you for honoring all the healthcare workers there. She would have loved this.
- Beverly Seeman

Dr. Pogorelec -
Thank you for your many years of guidance and support. I appreciate you. Praying your surgery will go or went well!
- Randy Janson

Kristen Fisher -
Thanks for ALL you did for James A Fisher and then for James M. Fisher Your guidance and support are always appreciated. You are SO loved.
- Rosie Fisher

Susan M. Smith -
I wanted to thank you for all that you do. You are efficient, organized and caring. No matter the subject of the email, your response is quick and informative. You have gained my trust and respect.
- Bob Matthews

Aultman Orrville Hospital Staff -
As Mayor of Orrville, I know how important it is to have our own hospital. I thank you all for keeping our hospital open and I thank you for the hard work you put into your job every day! You are a tremendous part of our community and one of the things that makes Orrville special!
- Dave Handwerk

Healthcare Workers in Aultman North Infusion -
Thank you so much for all you do to help people and for working so well together.
- Susan Lingler

Joan (Dr. Lindsay's nurse) -
Thank you, Joan, for helping with all the call issues I have. I've known you for years now and you have always been very professional and polite. I've known you to follow through and get answers to questions and see paperwork done. I can always depend on you getting back to me with an answer to my question. Definitely a team player!
- Juanita Ramseyer

Jenny Roosa-Dowell
Thanks Jenny for your dedication and hard work in your nursing career.
Love you,
Aunt Shirley and Uncle Bob
❤️
- Shirley Kline

We want to express heartfelt appreciation for the compassionate and high-level cares Drs. Alhatem and Qureshi provided to Robyn's dad, Stan Greenwald, who was hospitalized last week at Aultman for pneumonia and heart failure. Dr. Alhatem called Robyn daily to update her on Stan's condition and plan of care. Stan specifically appreciated that Dr. Alhatem would speak to him eye to eye from a bent knee. Dr. Qureshi and the cardiology team quickly and expertly diagnosed Stan's heart failure and called us with a plan of management.

The care Stan received was truly outstanding and we want to recognize the incredible efforts of Dr. Alhatem and Dr. Quresi, as well as the entire nursing staff on his floor.

Thank you
- Robyn and David Cutler

Cory Byers -
So very proud of you son! Thank you for your compassion for others and all your hard work.
- Mom

Sue Little -
Sue, thank you so much for your excellent care for my husband in Same Day today! You are so kind and your caring spirit was so appreciated!
- Sandi Troyer

Lauren Koch -
Thank you for being such an amazing nurse! Your patients are so luck to have you!
- Sarah Kobilarcsik

Marlene Bray -
Mar is a wonderful nurse inspiring everyone with her charisma. She has been with Aultman for 33 years and is still as devoted to work as if it were day one. Thanks Mar for being you!
- Donicka Smitley

Sabrina Lake -
To the best phlebotomist!! You da bomb.
- Melissa Lake

Aultman Surgical ICU -
I'm so honored to work with some of the most amazing nurses, doctors, therapists and techs in the SICU and the entire Critical Care Division. Happy Nurses Week! You all deserve all the accolades for all the hard work and dedication. This past couple of years is nothing short of challenges, but we are all here, together, and stronger than ever!
- Olivia Daya

Amanda Thomas (Mandi) -
Thank you for being the amazing Nurse that you are. You make our world a better place! The way you care for your patients and your coworkers is truly exceptional. You are a bright, driven, and dedicated young lady with a contagious smile and a heart full of love. It takes a genuine and careless person to do what you do, and Queen you make it look so easy. Keep pushing and being awesome. Thank you for all that you do. You truly make a difference.
- Vic Pinnix

Dr. Lynnette Cugino -
You are the best! We would not be in the shape we are without you
- Bart Keiser

Natalue Raber -
Thanks for all you do and being such a compassionate person. Always going the extra mile.

So proud of you!!!
- Dianne Lorenzo

All Nurses -
I just want to send out my Thanks to All Nurses. We all know the best part of being in the hospital is all of the wonderful care that you get from the Nurses.
- Mary Umbaugh

Kristin Barnes -
Special thanks to Kristin Barnes in Cardiology for excellent care during my recent aortic valve replacement and pacemaker surgeries. I am very appreciative of the group of cardiology doctors and nurses that came through for me. Thank you!
- David Keller

Sara Suitca -
Awesome Nurse! Thank you!!
- Barbara McCain

All the Great Aultman Nurses -
For all the courage, strength, wisdom and perseverance you demonstrated throughout the Covid-19 pandemic, a big thank you to all of you.
- Debbie Eichler

ALL Healthcare Workers -
Thank you for all you do! The Aultman Alliance Community Hospital nurses have kept my butt out of the fire several times. Best regards.
- Lloyd Hutmacher

Dr. Weaver -
You're the best!
- Serafina Cinquemani-jenkins

Joyce Billman -
Thank you for your bright smile and helpful attitude.
- Sergio Meneses

Karen Lambdin -
Thank you for all you do! I just want to take this time to honor such a special nurse. Your work ethic is second to none.
- Alisha Abramson

Ben Alderfer -
Thanks for all you do for Aultman and the community! We love you!!!
- Paul & Linda Alderfer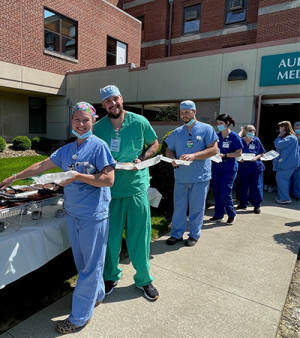 Aultman Orrville Hospital appreciation lunch for hospital week.

Courtney McCain -
I watched you coming home during covid with worry and exhaustion written all over your face. Always showering before touching your little one. You are a caring person! Thank you for your service!
- Barbara McCain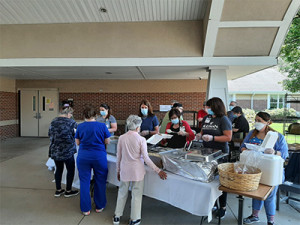 Aultman Woodlawn appreciation lunch for hospital week.

Amanda Mohn and Colleen Barrickman -
Thank-you so much for all you have helped me with. You are amazing!
- Melissa Hill

Monica, Sabrina (and the ENTIRE COVID Isolation Care Team on the 4th Floor) -
Thank you to you all for the care and assistance you gave me in October 2021, helping me recover.
In the darkest hours, you gave me the encouragement and motivation I needed to lift me back up by my bootstraps.
The Halloween Candy probably had the single biggest impact, because, as a "chocoholic", I knew I would not get another fix, if I did not pull through LoL.
Fully recovered and no lasting effects on me, thanks to all you did for me.
Sadly, we lost others at that time, but not due to any lack of trying or caring on your part.
Angels in Scrubs... Everyone of you.... Take care and hugs to you all.
- Terry Malloy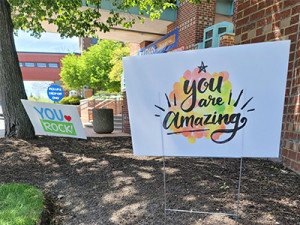 Marissa Crank -
I am so proud of the work you do, the person you are, and the difference you make.
Thank You for putting so much heart into everything you do!
- Jody Briggs

Ashley Studer -
Thank You Ashley for all you do!! All through the COVID crisis you never missed a beat, caring for a young child at home while working directly with COVID patients - we all could see how much you cared!!
You are the true meaning of what all nurses should be.
- Jill Studer

Cheryl Phillips -
We are so proud of you and all you do for your patients. Your resiliency during these last two years has been unwavering.

Happy Nurses Week!!!❤️
- Karen Wilson

Alexis Williams -
Thank you Alexis for your help during my aortic heart valve surgery and pacemaker surgery. I am very grateful!
David Keller
- David Keller

Nursing Staff -
Nurses are wonderful people! I know many....So thank you for your dedication and knowledge.
- Debbie Shields

Michael Belles -
Thank you for caring about all your patients. You are a great nurse. Thank you once again....

Love dad
- Gary Belles

Hannah Lundeen -
Hannah,

I have to brag about how amazing you are. No matter what is put in front of you, you keep going. You never complain about the difficult job you do or the strain on a new mom who works nights. You care for your family and patients literally day and night. I'm so proud of you.

Much love ❤️❤️
- Deb Reuss

Angie at Keely Telquist's Office -
Thank You for all you do. You are the best!
- Glen & Jackie Murphy

Keanna Pettus -
Thank you for all that you do.
- Marie Daniels

Jackie Parr, MICU -
You were amazing with my family before you even noticed I was standing there. You have a natural gift of therapeutic communication and care. Thank you for being you!
- Lisa Cammel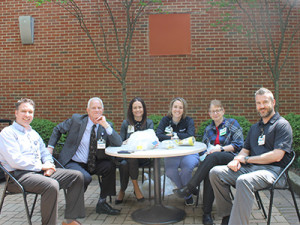 Aultman Hospital appreciation lunch for hospital week.

All healthcare workers -
I thank God for all Healthcare workers.
- Rev. Alan

Haley McIlvain -
Thank you for the care and love you show your patients!
- Barbara McCain

Bonnie Link -
Thank you so much for doing the job you do! Where would we be without you?
- Kathy Holderbaum

Bob Fratena -
Thank you for your commitment to working with me at AOSW - especially through the Transformation X program. I have learned so much about strength training and am surprised how my strength has increased. Maybe someday your class will be more manageable!

Lois Maibach
- Lois Maibach

Matt Newman -
Thank you for your consistent support to my inconsistent commitment to healthy eating and weight management these past 2 1/2 years. The Transition X program was enlightening; I learned much and was motivated. I do so appreciate your willingness to continue to meet with me for accountability.

Lois Maibach
- Lois Maibach

Pamela Rogers -
You have been an important part of our life the past nearly two years. We are grateful for your care of Blake to lead him toward his brain cancer diagnosis, even though it was difficult for all of us. I cannot imagine the stress of serving in the medical field. Thank you.

Sincerely,
Lois Maibach (Blake Maibach's mother)
- Lois Mailbach

Brittany Westhafer -
She is so compassionate and caring. Very organized and makes every little detail a priority to her care for patients. She was moved from cardiac care unit to MICU through COVID outbreak and now is a rapid response RN and using everything she has learned at Aultman to help those in great need in their time of need.
- Kim Starcher

Nurses and Doctors in Maternity Ward (Canton, OH)
I could never thank you all enough for that which you many, wonderful people did to help me bring the light of my life into this world ~May 8, 2021. I met so many of you, and despite my nervousness, you made me so comfortable and made me feel so important. What you do is nothing short of amazing and I thank God for you, your hard work, and your dedication. You not only saved my life when things did not go according to plan, you made it so much better.

Thank you, deeply, from the bottom of my heart.
- Danielle Krug

Kristi
When I woke up after my surgery I was in severe pain. Kristi was there for me. I don't know your last name. It was not important at the time. You were like an angel. Never impatient, distracted or impersonal. I appreciate you more than you can ever imagine. I will never forget you.
Thank you!
- Richard Heller

- Erin Wright
Thank you so much for your compassion and caring heart. My 2 visits to the emergency room were not pleasant for me, but I am glad you were there both times to help me. I received fast and excellent treatment by you. You are an angel.

Thank you so much and may God bless your life.
- Robert Hoffman

Renee Allatzas -
Renee truly cares about her patient and their families. Truly a wonderful nurse. Thanks Renee.
- Sara Hailstone

Kristy Russell -
Thank you for all the kindness and care you show each one of your patients. We know your job is a stressful one but you never show that to every person you care for. You are a blessing to Aultman Hospital.
- Georgia Haught

Sabrina Shilad -
Thank you for taking such good care of me you are wonderful. Your staff is excellent I appreciate all of you!!!
- Nancy Dickey

Oncology Department -
Thank you for being so understanding and for the great care given to all your patients.
- Nancy Dickey

Mike Belles -
Thanks for being such a compassionate worker last week! You were so thoughtful and amazing, I wish all nurses were like you!
- Mary Reed

Tyler in CCU -
Thank you for the awesome care I received after having gone through CBG procedure and then having infection in the chest. I nominated you for the Daisy Award! Keep up the amazing work you do!
- Kelly Densmore

Kyle -
This is a very late thank you, I was there in February. But, better late than never. Kyle was a very kind, personable nurse. I was terrified of having surgery for the first time, he reassured me I'd be fine. He never made me feel bad about being a bigger patient, especially since he had to wheel me out to my ride home. You changed my mind about Aultman Kyle! Take care of yourself, and know you made a difference in someone's hospital experience. You're very good at your job. Thanks again!
- DeAnn Leach